Sports fans and politicians have debated whether college athletes should be able to make money from their fame for years. Less commonly debated, however, is whether high school athletes should be able to do the same.
On Tuesday, Pasadena-based youth sports streaming platform BallerTV announced its new plan to allow high school athletes to make money off their names, images and likeness. How? By joining the NFT craze.
The company will sell NFTs that depict video highlights from the final June 8th game at Pangos All-American Camp, an elite, invite-only camp for high school basketball players. This game, called the "Cream of the Crop" game, features the top 30 players from the camp.
BallerTV hopes the potential of these players to become basketball's next legends will encourage consumers to invest in the NFTs.
"These NFTs will give collectors and young athletes the opportunity to capture the first moments of what could very well be storied NBA and professional careers," said BallerTV CTO Kavodel Ohiomoba.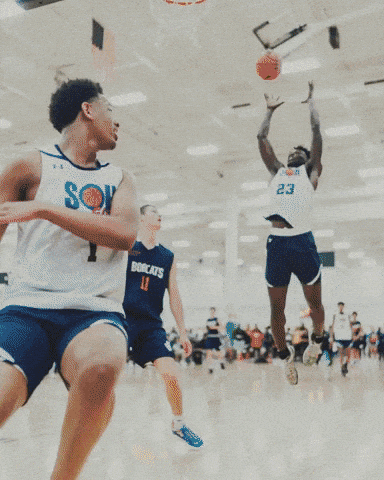 The NFTs are set to drop Tuesday on BallerTV's website at ballertv.com/nft and will be available for purchase on the Ethereum blockchain, with no starting price. The athletes featured in the NFTs will receive half of the profits, which may then be deferred until graduation from high school. The other half will go back to BallerTV.
Players can also donate their profits to a charity, school or organization of their choosing. BallerTV said it offered the option in case accepting the profits became an issue for players' future eligibility to play sports in their state.
BallerTV is taking their stand at a time when the issue of paying student athletes is top of mind at many universities and colleges, especially in California. In 2019, California Governor Gavin Newsom signed a bill allowing college athletes to hire agents and profit from endorsements without losing their NCAA eligibility. This bill will go into effect in 2023. Though California is the first state to do this, several other states are following suit.
BallerTV hopes the auction will contribute to the larger movement to allow student athletes to get paid, whether through selling NFTs or through other means.
"We're gonna see what the reception is to this," said BallerTV Executive Vice President Sandeep Hingorani. "How do the athletes respond? How does the community respond? Is this something they find interesting? But if that reception is not there, then there are going to be other avenues to explore to allow families and athletes to earn and benefit from the opportunities that are there."
While the NCAA has been slowly moving toward allowing its student athletes to benefit monetarily from their heightened profile, the National Federation of State High School Associations (NFHS) — which writes the rules for most high school sports — remains steadfast against payment for high school athletes.
"High school students participating [in travel or club sports] MUST NOT be allowed to benefit from [their name, image and likeness]," NFHS Executive Director Karissa Niehoff said in a statement earlier this year. "This would completely disrupt the high school environment when these students come into the high school locker room."
Meanwhile, the NBA has been cashing in on the recent NFT craze. NBA Top Shot, for example, a marketplace dedicated to selling video clips of NBA stars as NFTs, has an aggregated market value of 627,894,904, according to NFT site CryptoSlam. Last April, a clip of LeBron James dunking sold for almost $400,000 on the site.
From Your Site Articles
Related Articles Around the Web