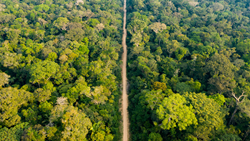 NFTs have experienced rapid growth and we see a continued market opportunity for them and similar assets for the foreseeable future. Leveraging that technology is a win for consumers, ecotourism, and the environment itself

SAO PAULO (PRWEB)
June 01, 2021
MOSS, creator of the MCO2 token the world's first tokenized carbon credit, today announced it has completed the acquisition of One Percent, one of the leading blockchain and tokenization startups in Brazil.
The announcement represents a fundamental step toward expanding MOSS's "climate tech" strategy, leveraging technology for environmental services.
One Percent is a developer of technologies that allow for the creation of digital assets, including non-fungible tokens (NFTs) from a blockchain platform. One Percent founders Renan Kruger, Fabio Junges, André Meirelles, Fausto Vanin, and Juliano Lazzarotto become part of the MOSS executive board. Additionally, Renan Kruger will become CTO of MOSS while One Percent has started to function as a business unit of the company.
"With the acquisition of One Percent, we are positioning MOSS to significantly increase our ability to leverage technology and the blockchain to improve the environment. We expect that the sale of NFTs will be a major source of funds for MOSS and the environmental projects we take on," says Luis Adaime, CEO and founder of MOSS.
"NFTs have experienced rapid growth and we see a continued market opportunity for them and similar assets for the foreseeable future. Leveraging that technology is a win for consumers, ecotourism, and the environment itself," says Renan Kruger, CTO of MOSS.
Moss and OnePercent have just released their own NFT portal called Rarum, focused on providing sustainable NFT collectibles to the market. MOSS itself has created digital art NFTs in collaboration with the environmental NGO Onçafari. One MOSS NFT featuring a jaguar hunting at night can create revenue of $200,000 USD for the preservation of jaguars in the Amazon rainforest and is a great example of content that will be featured on the platform soon.
About MOSS and the MCO2 Token

MOSS is the largest environmental platform in the world. With global operations and headquartered in Brazil, it started operating in early 2020, when it launched the first carbon credit-backed token, MCO2, used to offset carbon footprints. MCO2 is audited by international institutions and registered with Verra, a foundation that regulates the global registration of voluntary credits, following a strict global protocol.
Share article on social media or email: